Key West Airport: EYW

American Airlines: 1 (800) 433-7300
Delta Air Lines: 1 (800) 221-1212
Silver Airways: 801-401-9100
United Airlines: 1 (800) 864-8331

Key West International Airport is located about 180 miles southwest of Miami International Airport. See MAP & DIRECTIONS. Both airports offer car rental services.
For Hotels near Key West Airport call toll Free 800-327-1390 or,
go to Hotels near Key West Airport
For Florida Keys Shuttle Service call Toll Free 855-679-0041
Key West International Airport official site:
www.monroecounty-fl.gov/index.aspx?NID=105.
American Airlines: 1 (800) 433-7300
Delta Air Lines: 1 (800) 221-1212
Silver Airways: 801-401-9100
United Airlines: 1 (800) 864-8331
The airport phone number is 305-296-5439.
Our site is used solely to promote tourism in the Florida Keys and Key West. We hope you enjoy your stay in our Friendly Islands.
Several major air carriers schedule regular service to both Key West International Airport and Marathon Airport. These include US Airways, Delta, and American Eagle Airlines. Many flights are routed through Miami International Airport, although some smaller airlines, such as Cape Air and private charters, schedule direct flights from many cities in Florida and the Bahamas. International flights must connect to one of these airlines in Miami. Check with the airline carrier for specific flight information. Marathon Airport is located roughly 120 miles south of Miami.
For day tours of the island, visit Miami Everglades Tours.
Key West's airport opened with one terminal in 1957. In February of 2009 a new 30,000 square foot terminal opened, doubling the size of the airport. Parking for 300 vehicles is available at ground level beneath the newer terminaló150 spaces for rental cars and 150 for the public.
Aviation history for Monroe County began in Key West when Augustin Parla flew a bi-wing seaplane to Cuba on May 19, 1913. Without a compass to guide him, he left Key West carrying the Cuban Flag that Jose Marti had carried with him during his travels in Florida raising monies for the Cuban cause.

Learn more...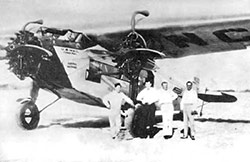 This site is used to promote tourism in the Key West area, and is owned and operated by Hotel411.com.